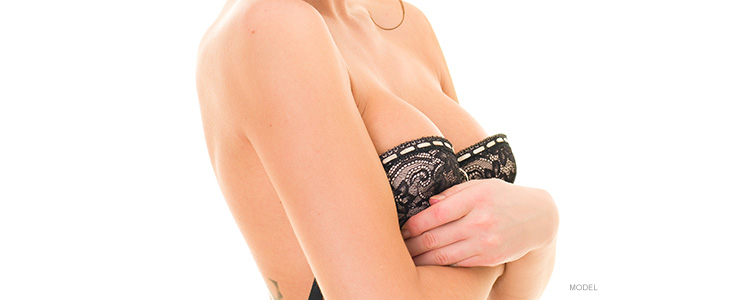 Breast Lift
What it is
Often called "mastopexy," a breast lift is a procedure done to raise sagging breasts.
Candidates
Strong mastopexy candidates are patients whose breasts sag, are elongated, or have lost firmness, perhaps due to aging, weight loss, or pregnancy. Patients whose nipples point downward are also good mastopexy candidates. Mastopexy patients often pair the procedure with breast augmentation.
Procedure
Mastopexy is often done as an outpatient procedure in the hospital or surgery center. Mastopexy takes from two to four hours to complete and general anesthesia is administered. Most mastopexy recipients are released a few hours after the procedure.  Excess breast skin is removed in mastopexy to give the breast a more satisfying shape and higher position.
Risks
Mastopexy is a safe procedure and complications are uncommon. Occasionally asymmetries in the breasts may remain after mastopexy, though these dissimilarities can usually be corrected with subsequent procedures. Nipple sensation can increase or decrease temporarily as a result of mastopexy, but it is usually unaffected and rarely are the changes permanent. Patients who are considering losing a significant amount of weight are advised to receive the mastopexy after weight loss is complete. Pregnancy after mastopexy and normal aging can eventually cause sagging in breasts even after mastopexy, though mastopexy does not usually affect breastfeeding.  Partial or complete nipple loss is a very rare complication of a mastopexy.
Recovery
Mastopexy recipients will need help around the house for a couple days after the mastopexy, as well as a ride home from the procedure. Mastopexy patients will be required to wear a support bra following the mastopexy. Mastopexy patients are encouraged to wear a bra at all times postoperatively, but not permitted to wear bras with underwires for 6 weeks following the surgery. Scarring from mastopexy varies from patient to patient, though it will improve in all mastopexy patients as time passes and often is hidden around the areola's edge. Mastopexy patients are restricted from heavy lifting for 4 weeks, but are able to return to work a week after the mastopexy. Mastopexy recipients also may be compelled to sleep only on their backs for a few weeks after the mastopexy, and though sexual activity is often fine two weeks after surgery, breasts may be tender for up to a month after mastopexy. Any post-mastopexy swelling and bruising usually diminishes in a month.