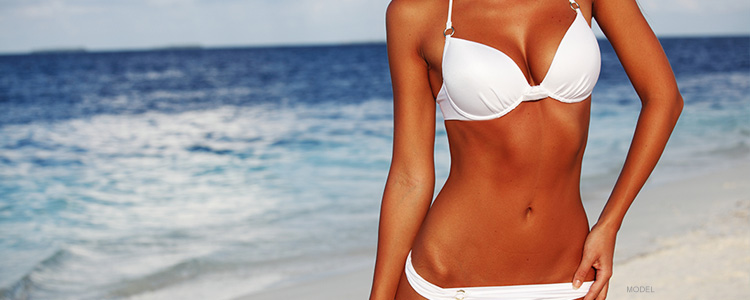 Mommy Makeover
What it is
Mommy makeover is an inclusive procedure in which patients receive a tummy tuck (also known as abdominoplasty) in the same surgical session as a breast lift (or mastopexy), breast augmentation, or both. The goal of a mommy makeover is to achieve the body a woman had before pregnancy, or even better.
Candidates
Women who have given birth and desire to return to their pre-pregnancy bodies or would like perhaps to have a better shape than they did before they had a child are ideal mommy makeover candidates, though any patient in good health, whether or not she has had a child, may be an excellent candidate for a mommy makeover.
Procedure
Mommy makeover patients receive two or three different procedures successively during the same surgery. Mommy makeover includes a tummy tuck, a very common procedure in which an incision is made horizontally across the stomach, just above the pubic bone to tighten the muscles and remove fat and unnecessary skin. Mommy makeover patients may elect to have a breast augmentation, in which implants are inserted to increase the size or improve the shape of the breasts, or a breast lift, which removes excess skin to give the breasts a more satisfying contour and higher position; some mommy makeover patients may also choose to receive both a breast augmentation and breast lift. A mommy makeover patient may be kept overnight for monitoring but, if so, is usually released the following day.
Risks
Mommy makeover risks include normal risks associated with tummy tuck, breast augmentation, and breast lift. Infections can occur, though they are rare and treatable with antibiotics. Fluid can become trapped under the abdominal skin, but can be released with additional surgery. Abdominoplasty and breast lift scars are permanent, though they will fade within a year. Mommy makeover candidates who receive breast augmentation may experience a disappearance of nipple sensation following the surgery, which may return or be lost permanently. A buildup of excess scar tissue can make the breasts feel hard after breast augmentation, but this effect can be treated with additional surgery. Breast augmentation implants can rupture, due to trauma to the chest (or, more rarely, for no reason), but the implant-manufacturing company will provide financial assistance to replace the implant. Mommy makeover patients receiving breast lift may experience asymmetries in the breasts, though these dissimilarities can be corrected with subsequent procedures, as well an increase or decrease in nipple sensation, though these shifts are usually temporary.
Recovery
Patients who receive mommy makeover can expect to feel well after two weeks, though due to the simultaneity of the surgeries, it will take six weeks for them to return to all their normal daily routines, strenuous exercise, heavy lifting, and sexual activity. Mommy makeover patients will need household help for a few days following the procedure, as well as a ride home from the surgery. During tummy tuck, drains are implanted to remove fluid postsurgery, but they will be removed one to two weeks after the procedure. Mommy makeover patients will be required to wear a support garment for a few months after surgery to facilitate healing in the abdominal area. Mommy makeover patients may experience bruising and swelling in the breast area, though this appearance usually fades after a month. Scarring from breast lift varies from patient to patient, though it will improve in all mommy makeover breast lift patients as time passes and often is hidden around the areola's edge. Breast lift recipients will need to sleep on their backs for a few weeks after the procedure.