Am I Too Old for a Facelift?
Facelift surgery is performed for patients who are unsatisfied with the way that natural aging is changing their facial appearance. Fine lines, wrinkles, loss of volume, jowls, and vertical banding on the neck are all common effects of the aging process. Fortunately, facelift surgery minimizes or erases these signs and restores natural-looking youthfulness to the middle and lower regions of your face and neck.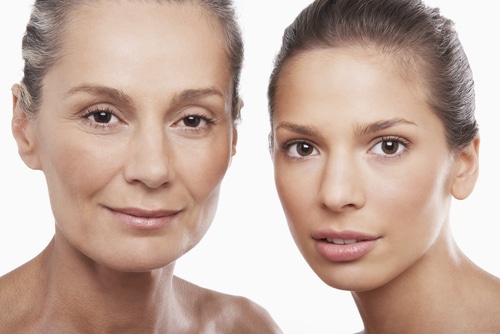 What Is the Best Age for a Facelift?
Many men and women wonder what the best age for facelift surgery is. Are they too young? Are they too old? In truth, your age plays an insignificant role when it comes to determining facelift candidacy. Everyone ages at a different rate, so it does not make sense to generalize age ranges. Genetics, sun exposure, lifestyle factors like smoking and alcohol consumption, and skin care regimens all contribute to the rate at which your skin ages. So, instead of thinking about facelift candidacy in regards to the number on your driver's license, think about it in terms of your physical signs of aging.
Hand-tailored Techniques
Fortunately, facelift surgery can be customized to fit your needs. There are different "levels" of facelift surgery, ideal for patients ranging from the early stages of facial aging to deep-set wrinkles, folds, and jowls. The extent of your aging will be examined during your consultation to determine which techniques are ideal for you.
Short Scar Facelift
A short scar facelift is the most limited form of facelift surgery. As the name implies, this technique uses short incisions that will result in minimal scarring and less downtime. The short scar facelift is ideal for patients who are wanting to stay one step ahead of the aging game. This procedure focuses solely on reducing mild to moderate fine lines, wrinkles, and skin laxity on the lower and middle regions of the face. It will not have much effect on the neck or restore lost facial volume.
Traditional Facelift
The traditional facelift smooths and transforms the contours of your mid-face, lower face, and neck. This is ideal for patients who have significant lines and wrinkles but still maintain some extent of skin elasticity. During this procedure, more extensive incisions are made (starting in the hairline at the temples and going down and around the ear), through which the underlying muscles and fat are repositioned to their original locations and excess skin is surgically removed. This technique results in a noticeable reduction of fine lines, wrinkles, jowls, and neck banding.
Full-face Rejuvenation
Full-face rejuvenation is suggested when there is a significant level of visible aging across all regions of the face. This treatment starts with a traditional facelift. Unfortunately for patients with aging on the upper areas of the face, addressing the lower regions may create an unnatural balance between your facial features. Full-face rejuvenation restores balance and harmony to your look by combining procedures that address aging of the upper face as well. These combinations can include an eyelid lift, a brow lift, or fat injections to restore lost volume. Combining procedures ensures that you will maintain a natural appearance.
To learn more about how facelift surgery can benefit you, or to set up a consultation, contact Dr. Wilson by calling (256) 551-2002 or by filling out our online contact form.