Do I Need a Breast Lift or Breast Implants?
3 Minute Read: 
Are you looking to enhance the appearance of your breasts? Chances are you're either considering a breast lift or breast augmentation. Both procedures are incredibly popular among women seeking to adjust breast contours, increase cleavage, and look younger.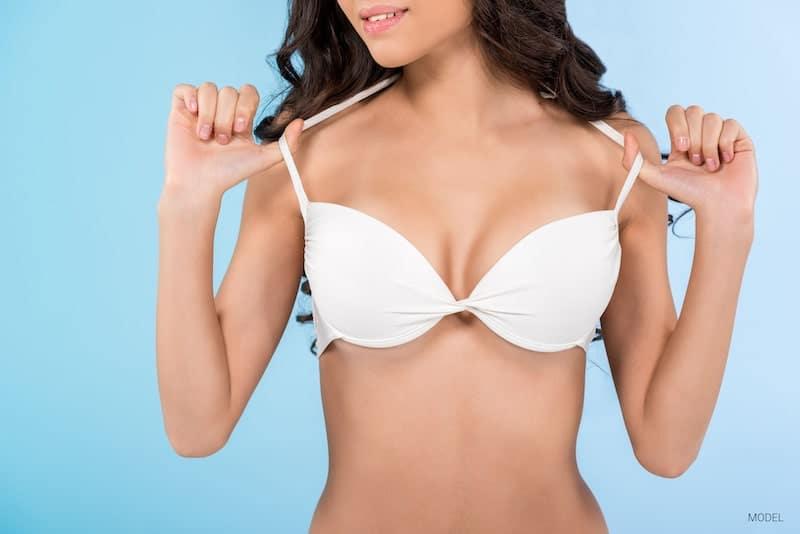 The critical question is, how do you decide which option is right for you? While both procedures do a great job of improving the appearance of your chest, they do so in different ways and target varying concerns, such as breast volume, firmness, projection, and nipple position.
Read on to gain more insight into each option and determine if your way to a more youthful chest appearance will be through breast augmentation, breast lift, or both.
Understanding the Breast Lift
Over time, a woman's breasts may lose their youthful perkiness and start to sag due to aging, gravity, pregnancy, breastfeeding, and weight fluctuations.
A breast lift, also known as mastopexy, is a surgical procedure that involves removing excess skin and reshaping breast tissue to enhance the appearance of sagging and drooping breasts. 
Who Is the Breast Lift Ideal For?
The best candidates for a breast lift have saggy, flat breasts with downward-pointing nipples and large areolas. The procedure also involves repositioning the nipple and areola complex to achieve a more balanced and aesthetically pleasing placement.
Having a breast lift as a standalone procedure doesn't add volume to your breast tissue or significantly change the size of your breasts. Due to this, the procedure is particularly beneficial for women with sufficient natural breast tissue who want to achieve a firmer, perkier, more youthful and natural bust appearance.
Understanding Breast Augmentation
Breast augmentation involves using implants to enhance the size and shape of the breasts, resulting in a fuller and more aesthetically pleasing appearance. The goal is to add volume to breast tissues using saline or silicone implants placed above or below the chest muscle.
For this procedure, patients can personalize their breast enhancement to achieve desired results based on their preferences and body type. Among the factors to consider are implant type, size, and placement. 
During your consultation, Dr. Wilson will offer guidance on choosing the best size and implant characteristics according to your frame and aesthetic goals.
Who Is Breast Augmentation Ideal For?
If you have genetically small breasts or have lost volume due to weight loss, pregnancy and breastfeeding, breast implants can enhance your breast size and create a more balanced body appearance.
Generally, if you're unhappy with the size or shape of your breasts, this procedure may be a good choice. It's important to note that implants alone cannot address moderate-to-considerable breast sagging.
Combining Breast Augmentation with a Breast Lift
A breast lift and augmentation aren't mutually exclusive. Therefore, you can get both procedures done together, especially if you desire to increase your breast volume in addition to lifting them. 
This combination approach provides upper breast fullness while restoring sagging breasts to a more youthful position for an improved overall look and feel. This combination procedure is particularly beneficial for women after having children or undergoing substantial weight loss.
Ready for a Breast Transformation? Contact Us Today for Breast Enhancement in Huntsville, AL
Dr. Wilson is a leading board-certified plastic surgeon in Huntsville, Alabama, offering highly skilled and customized breast surgery treatments to meet each individual's unique needs and goals. 
Contact us today at (256) 551-2002 or fill our online form to schedule your consultation and discuss alternatives to achieving your breast aesthetic goals.