Should I Get My Breast Implants Replaced?
While the majority of breast augmentations go according to plan and provide beautiful, satisfactory results, there's always a chance that something may go awry. If this happens, it is important to remember that while breast augmentation is a generally permanent procedure, it can be revised to guarantee that the results you see are the results you want.
Reasons for Implant Replacement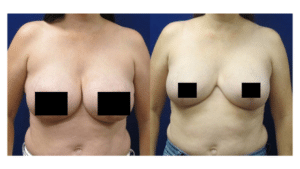 There are many reasons to consider implant replacement if your breast augmentation results are not your desired breasts.
Adjustment of Implant Size
Often, implant replacement comes down to dissatisfaction with the size of the implants. Choosing the correct implant size is more complicated than most expect, and it is possible to end up with implants that are either larger or smaller than what you anticipated. Implants that are too large for a woman's frame can often look unnatural. On the other hand, implants that are too small don't provide enough of a change to justify breast augmentation. In both of these situations, implants are removed and the breast pocket is adjusted to allow for a new, more ideal implant size.
Adjustment of Implant Placement
Implants can also be revised due to an error of placement. Depending on where your implants were placed, either the submuscular or subglandular position, they may sit too high or the shape may not feel natural. It is also possible for the implant to slip out of the breast pocket. In these cases, it may be necessary to remove the implant and adjust the placement to ensure the desired results.
Implant Rupture
Regardless of whether you opted for saline or silicone implants, it is possible for the implant to rupture. When this happens, it is necessary to remove and replace the implant.
Capsular Contracture
A complication that can occur with breast augmentation is capsular contracture, which is when the tissue surrounding the implant hardens and becomes painful. Your surgeon must remove the implant and the hardened tissue before replacing it.
Are You a Candidate?
If you are unhappy with the appearance of your breast implants, you may be a candidate for breast revision. As with your initial surgery, you should be in good health and realistic about the expected results. During your consultation, make sure to be open and honest with your cosmetic surgeon about what you dislike about your current implants. This discourse will allow your surgeon do everything possible to ensure you are pleased with the revision.