Do I Need Breast Reduction or a Breast Lift?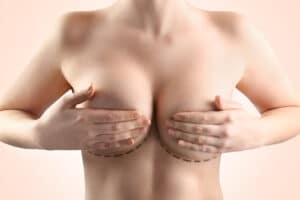 Breast procedures are typically one of the first things to come to mind when you hear plastic surgery; however, most people only think about breast augmentation. While breast augmentation is still the most commonly performed cosmetic surgery, there are still plenty of women who decide to go the opposite way with either breast reduction or a breast lift. While the breast augmentation procedure is pretty self-explanatory, it is often much more difficult for women who are dissatisfied by their oversized or sagging breasts to know which procedure is right for them.
How Do These Procedures Differ?
Breast Reduction
Oversized breasts not only make women and young girls self-conscious, but they can also be a cause for many adverse physical conditions such as back and neck pain. This extra weight can make common exercises like running, biking, or playing sports unbearable, and can even negatively impact posture and alignment. Breast reduction surgically removes the excess fat, tissue, and skin that contributes to irritation and breast-related pain.
Breast Lift
Age, weight loss, and pregnancy all contribute to the loss of firmness and perkiness to the breasts. Breasts have always been, and will always be, a symbol of femininity and youth, and these changes to the breasts can result in a diminished amount of self-esteem. Sagging breasts often appear to be larger than they are because of the way they rest on the body. A breast lift will raise and adjust the projection of the breasts by removing excess skin and tightening the breast tissue.
Which Is the Right Procedure for Me?
Women who undergo breast reduction surgery often require some form of a lift; however, women who decide on a breast lift may not need or desire much of a reduction in the volume of the breasts. The ideal candidates for breast reduction surgery are women who have large amounts of fatty tissue that lead to pain and irritation, while the ideal candidate for a breast lift procedure is women whose breasts are elongated, flattened, lacking fullness, or have nipples that point downward. Women who undergo breast lift surgery may notice some reduction in size as excess skin often masks breast fullness; however, for women looking for a more substantial change in size, a breast reduction may be the right path for you. During your consultation, your surgeon will help guide you toward the ideal procedure. The good news is that both breast reduction and breast lift have a high rate of satisfaction, and both can lead to an increase in self-confidence and quality of life.