Am I Too Old for Breast Surgery?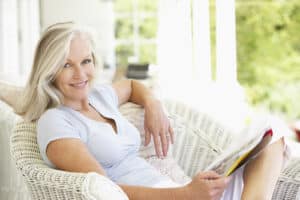 The breasts are important to a female. They define her femininity and help make her who she is. It isn't a surprise that breast surgery is one of the most requested plastic surgeries by women. Whether the breasts are too big or too small, asymmetrical, sagging, or lacking in volume, different breast surgery techniques are designed to improve the appearance of the breasts. Women from all walks of life decide on breast surgery to achieve breasts that are more flattering to their silhouette. Some women feel there is a "cut-off" age for breast surgery. Is there such a thing as being too old for breast surgery? The answer is: no; the candidacy for breast surgery does not weigh on a patient's age but is dependent on her physical and emotional well-being.
What to Consider Before Undergoing Breast Surgery
Age does not have to prohibit a woman from achieving the breasts she desires. With the latest advancements for "the new boob jobs" available in today's plastic surgery market, women can undergo breast surgery safely and efficiently while achieving natural-looking results. A woman's general health will ultimately affect whether or not she is ready for breast surgery.
Are you in good physical health without any serious medical conditions?
Patients should understand that breast surgery is surgery. Their body should be physically ready to undergo surgery and be able to recover safely. Older patients should receive a mammogram and cancer screening before undergoing breast surgery. They should also have a physical exam and blood tests taken by their primary care physician. Women who follow a nutritious diet and practice healthy habits, such as refraining from smoking and drinking alcohol before and after surgery, are more likely to have an efficient and successful operation process.
Are you realistic in your expectations?
Breast surgery is designed to provide dramatic results, but it will not significantly transform a person's body overnight. Patients should be mentally ready and understand that the recovery process will involve residual swelling and some discomfort. Changes in the breasts are noticeable following surgery; however, full results can take six months to one year to develop completely.
Are you willing to commit to your recovery?
A full commitment to the healing process, especially caring for surgical wounds, will ensure a positive experience. Depending on the procedure, the initial recovery process can take up to one week. Patients should realize that every individual has their own level of healing. Each patient will know the best time for them to return to work, regular activities, and exercise. Dr. Wilson can help you decide when the right moment is for you and provide you with a better idea of the downtime each procedure entails.  
Your Breast Surgery Options
If you feel you are physically and emotionally stable for surgery, then it is probably time to decide on the best surgery for your goals and unique anatomy. During a consultation, Dr. Wilson will evaluate your body and help you choose the right procedure for you. He will suggest one or a combination of the following breast procedures:
Breast augmentation: The size and shape of the breasts can be altered using saline or silicone breast implants.
Breast lift: The breasts can be lifted and reshaped to correct sagging and volume loss, creating a more youthful bustline.
Breast reduction: The breasts can be reduced to alleviate physical and emotional pain associated with large, pendulous breasts.

Are you an older patient who is interested in breast surgery? Schedule your consultation with Dr. Wilson today! He can evaluate your body and discuss your goals to help you decide if you are a good candidate for breast surgery. Contact us by calling (256) 551-2002 or by filling out our online contact form.