New Year, New You. Right?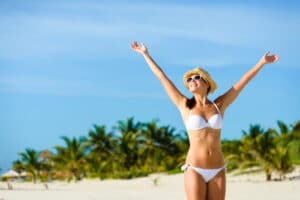 Every January, women all around the world make resolutions about how this is going to be the year their bodies will look the way they have always wanted. For some women, even getting in the perfect shape or down to the dress size they were in college just isn't enough to make them feel their best. So, why not have a little help?
There are many misconceptions about plastic surgery, such as the fact that people think it will make you look fake or that it is too expensive for the common person to afford. This is not the case! Plastic surgery can be beneficial to anyone who has a problem area that just won't go away or for someone who has that one thing they have always wanted to change. The most common areas women want to fix are their breasts, their tummies, and their butts; basically all of the areas that make you bikini-body ready. We want to help you get to YOUR perfect bikini body!
Breast Augmentation
Breast augmentation is a simple procedure that can enhance the shape of the breasts and make them more voluminous in a bathing suit. The most common complaints we hear from women are that their breasts are just not full enough and they want to fill out their bikini top entirely.
Ladies, this is the perfect solution for you! This procedure is easy and somewhat painless… Let's be real though, nothing about surgery is pain-free, but there is minimal pain regarding this surgery! After only one week, you will be able to return to work and other activities that are not strenuous, and within one month, you can resume normal activities and will have the breasts you have always wanted.
Brazilian Butt Lift
Who doesn't want a booty like J. Lo? A lot of women are craving to have a lifted butt, but sometimes there just aren't enough squats and lunges to help. Brazilian Butt Lifts are becoming the new craze in 2017 because women want to have more firm and lifted behinds.
The first thought most people have when considering this surgery is, "how am I supposed to sit down?" or "how much will this hurt and hinder my everyday activities?" The answer to these questions would be, yes it hurts, but it is very manageable, and you will be able to resume normal activities six weeks after surgery. You are given a padded chair to sit on at all times during recovery to cushion your bottom and make things a lot more comfortable. The first few weeks will be vital to recovery, and the more you rest, the better the results are.
Tummy Tuck
Tummy tuck surgery, also called abdominoplasty, is the most common form of surgery to help women get the hourglass shape and small figure they desire. For so many women, their biggest complaint seems to be excess skin around their abdomen that just won't go away, even when eating a healthy diet and exercising regularly. Many times, this excess skin is caused by pregnancy, significant weight loss, or age-related problems.
An abdominoplasty is the perfect procedure for women who want a slimmer abdominal appearance, more defined contouring of the abdomen, improvements in the appearance of those pesky stretch marks, and most importantly, regaining your CONFIDENCE!!
This procedure has a full recovery time of approximately three months, but the good news is that you can be up and moving around in just one day! Dr. Wilson suggests moving as much as you can in the first weeks to ensure better healing and better results.
Liposuction
If a tummy tuck isn't the key to getting the body you want, liposuction may be an option for you! Stubborn fat can be the most annoying thing to deal with, especially if you are exercising and eating a healthy diet and are still stuck with excess fat. This procedure is highly customized to target specific areas to define your body's natural contours.
To achieve the body you want in a safe and effective manner, Dr. Wilson uses a high definition technology called VASERlipo®. This ultrasound technology loosens fatty tissue to gently and evenly remove the fat. By using this treatment, it significantly reduces the risk and complications that traditional liposuction cannot ensure. The areas that can be reached during this procedure include the abdomen, flanks, thighs, arms, and neck.
To be eligible for liposuction, there must be a certain amount of actual fat in the problem area; many people mistake skin for fat and are then disappointed when they learn they are not eligible. If you are not sure whether you qualify, please make an appointment to come in and talk to us!
Injections
BOTOX® Cosmetic and other facial injectables have been given a bad name over the years, and a lot of that has to do with the fact that many people go overboard with their injections and begin looking unnatural. Many women, especially as they age, are concerned about the wrinkles on their foreheads, around their eyes, and near their mouths. Other women want fuller lips and a tighter face to make them look younger.
If your concern is the wrinkles on your forehead and around your eyes, you may want to consider BOTOX® Cosmetic or XEOMIN®. If you want to fix the wrinkles around your nose and mouth, BELOTERO BALANCE®, JUVÉDERM®, or RADIESSE® may be the right choice for you! And if you just want to plump up your lips, there are many different types of solutions for that!
Needless to say, there are a variety of different procedures and injections you can undergo to get ready for that yellow polka dot bikini. At Wilson Plastic Surgery, our mission is to enhance your NATURAL beauty! We want our patients to leave here feeling more confident in themselves and satisfied with their results.
To schedule a consultation, please fill out our contact form or call us today at 256.551.2002.