How Young Is Too Young for a Facelift?
4 Minute Read: 
Facelift surgery is one of the most popular plastic surgery procedures available. This is due in large part to the stunning results it offers.
With a facelift, you can minimize many of your most frustrating aging concerns, including wrinkles, fine lines, and sagging skin. In the end, this procedure can help you look and feel your very best. Thanks to this procedure's numerous benefits, many wonder if there's a "right time" to undergo facelift surgery.
Fortunately for you, there's no set age limit for facelift surgery.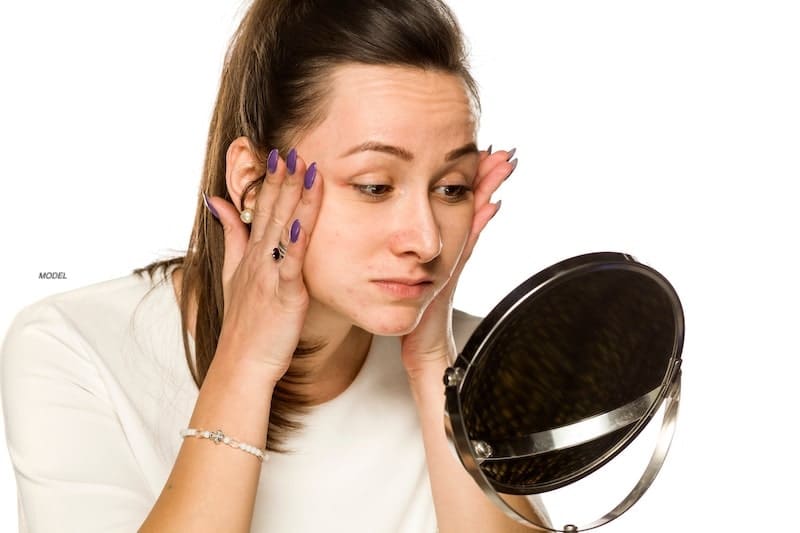 Below, we'll explore this question more deeply. 
What Is a Facelift?
While most people have heard of facelift surgery, many do not fully understand the details of this procedure. Facelift surgery is a cosmetic procedure that addresses age-related concerns on the lower and midface (from the neck to the cheeks). 
With this procedure, incisions are made along the sides of your face. Through these incisions, Dr. Wilson will manipulate the underlying facial tissue, surgically remove excess skin, and pull the remaining skin taut before closing the incisions. 
What Are the Benefits of Undergoing Facelift Surgery?
With a facelift, you can look forward to tighter, smoother skin that helps accentuate your natural beauty. Additionally, this procedure can help address specific aesthetic concerns, including skin laxity and jowls. And what's even better than the physical transformation is the mental benefits. After your facelift, you can find improved confidence and comfort in your appearance! 
What Is the Best Age to Have a Facelift?
Women typically undergo facelift surgery between 50 and 65, while men have facelift surgery at 71, on average. By these ages, the skin has developed significant concerns, including facial lines and heavy sagging that detract from the natural appearance of the face. However, this is not to say that you cannot have a facelift until you are in your late-middle age or entering your twilight years. 
Many patients have facelifts in their 40s. Some opt for the procedure even younger than that. 
Simply put, a patient is a candidate for facelift surgery as soon as they become frustrated with the effects of aging on their face. 
Each individual is unique, so there is no "right age" for any cosmetic surgery. If you are upset with the appearance of your face due to age, schedule a consultation with Dr. Wilson to learn more about your options. 
What Are the Alternatives to Facelift Surgery?
Facelift surgery can revitalize your facial appearance and help you look as young as you feel. However, there are some cons to this procedure. One of these cons includes the possibility of needing to have another facelift if an initial procedure was performed early in life. And while there is no increased risk with a second facelift, most people would agree that having two facelifts is not ideal. 
So, if you are young, it may be a good idea to look at alternative non-surgical and surgical procedures before undergoing a more extensive facelift.
Non-surgical Facelifts
Dermal fillers can help women and men of all ages achieve a more youthful and vibrant appearance. 
Hyaluronic acid (HA) fillers (such as BELOTERO BALANCE®, JUVÉDERM®, and Restylane®) work by literally filling in the area beneath the skin to help tighten and replenish the appearance of the skin. These injectable treatments can smooth skin and restore healthy volume to the face (including the cheeks). However, unlike long-lasting facelift surgery, dermal filler results tend to only last six to 18 months before needing repeat treatments.
Surgical Facial Rejuvenation
A facelift only addresses the lower and middle portions of the face. This means that concerns in the upper face (the cheeks to the forehead) cannot be corrected with a facelift alone. If you are frustrated with aesthetic issues in your upper face, then brow lift surgery (also known as a forehead lift) and/or blepharoplasty (eyelid lift) may suit your needs. 
A brow lift smoothes wrinkles and lines on the forehead while correcting heavy and furrowed brows. Eyelid surgery addresses heavy eyelids that can make you look much older and tired than you are (as well as obstruct your vision). 
A brow and eyelid lift can be combined, performed with a facelift, or performed as standalone procedures. During your consultation, Dr. Wilson will evaluate your upper face to see if either (or both) of these procedures is right for you.
Would You Like to Learn More About Facelift Candidacy?
If you have any questions about facelift surgery, contact Dr. Wilson today by calling (256) 551-2002 or filling out our online contact form.