Liposuction is one of the leading forms of cosmetic surgery and is for fairly obvious reasons. Liposuction sculpts your body and gets rid of stubborn pockets of fat in little time and with minimal discomfort. While the concept of liposuction is straightforward, there are still some misconceptions and questions about this procedure.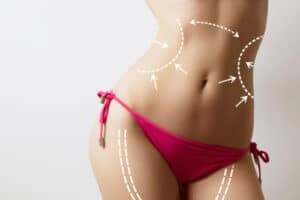 Is liposuction right for me?
Liposuction removes localized areas of fat from the abdomen, hips, thighs, back, buttocks, and arms that are resistant to diet and exercise.
Why do I need to be near my ideal weight?
One of the most common misconceptions about liposuction is that it provides significant weight loss and can be used as a substitute for a weight loss program. This isn't true. Liposuction gives off the appearance of weight loss because it tightens, slims, and firms your physique to provide you with a more fit contour. Regarding weight, however, the number on the scale will not be substantially reduced. Another reason that liposuction results are better when you are near your ideal weight is because liposuction doesn't affect or address the skin. Liposuction works best for patients who have firm skin elasticity. If your skin has poor tone and cannot bounce back, your liposuction procedure may only highlight this loose skin and create unforeseen cosmetic issues.
What if I have excess skin?
Liposuction isn't ideal for you if you lack skin elasticity. As liposuction doesn't shrink the skin, an additional procedure to address sagging skin may be necessary to reach optimal goals. Common procedures combined with liposuction are tummy tuck surgery, arm lift surgery, thigh lift surgery, and a lower body lift.
Will I gain the weight back?
Every person has a specific number of fat cells in their body. This number of cells doesn't multiply or lessen; however, the size of the fat cells can grow and shrink in response to diet, exercise, and lifestyle choices. Liposuction permanently removes fat cells. Once gone, these cells are gone for good. The remaining cells will not multiply. It is for this reason that liposuction results are considered to be permanent. That said, just because the number of fat cells will not increase, that doesn't mean the remaining fat cells cannot grow in size if the proper maintenance is not met. A nutritious diet and regular exercise help to maintain liposuction results.
What will my recovery time entail?
If liposuction is performed alone, the recovery time is minimal. Patients return to work after one week and resume all normal activities after three weeks. You can expect bruising and swelling at the incision sites that will last for several weeks. Some residual swelling may be present for a few months. Your final results will become apparent after all of the swelling has subsided.
How does VASERlipo® differ from other liposuction techniques?
Although there are many techniques when it comes to liposuction, Dr. WIlson prefers to use VASERlipo®. VASERlipo® uses ultrasound technology to liquefy and loosen the fat. This process is safe and effective and allows for easier removal of the fat cells. The VASERlipo® technique offers dramatic results in a less invasive fashion.
If you are interested in learning more about VASERlipo®, contact Dr. Wilson to set up a consultation by calling (256) 551-2002.