Non-Surgical Touch Ups for the New Year
A new year is here, and it's a great time to start out with a refreshed appearance. Many of us are looking in the mirror examining our flaws and making our New Year's resolutions. A lot of people want to liven up their appearance and lose weight. Many people seek plastic surgery at the beginning of the year to start out looking their best. However, surgical procedures can be daunting, as they entail a long recovery and post-surgical pain or discomfort. Additionally, most people do not have the time to take off from work or their personal lives for the downtime that surgery involves.
Cosmetic Procedures Without the Surgery
To avoid "going under the knife," more people are opting for non-surgical options. The increasing popularity of non-surgical facial rejuvenation continues to grow, and more doctors are offering less-invasive body contouring treatments. With so many new procedures on the plastic surgery market, people can "touch up" their face and body without ever going near an operating table.
Fight Signs of Aging and Volume Loss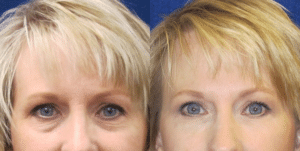 Injectables and fillers have been options for many years, and they continue to increase in popularity. They offer quick results and are less invasive than surgical procedures such as a facelift. Here are some of the injectables we offer at Wilson Plastic Surgery:
BOTOX® Cosmetic and XEOMIN®: Composed of botulinum toxin type A, these injectables work by inhibiting the muscle contraction that causes the formation of wrinkles around the eyes, on the forehead, and between the brows.
BELOTERO BALANCE®, JUVÉDERM®, and Restylane®: These injectable fillers are made of hyaluronic acid (a naturally-occurring substance in the body that helps stimulate collagen production). Patients can achieve more volume and definition in the lower face.
RADIESSE®: Made of calcium hydroxylapatite, a natural substance found in the body, this injectable stimulates collagen production and leaves behind volumizing collagen.
Smoother Skin for a More Youthful Complexion
Skin resurfacing treatments are a great way to improve the appearance of the overall face. Patients can target damaged skin that has been affected by the sun, aging, genetics, and environmental factors:
Fraxel® DUAL Laser: This nearly pain-free skin resurfacing treatment is performed in-office and requires minimal downtime. Fraxel® can improve the appearance of fine lines, wrinkles, sun spots, acne scarring, large pores, irregular texture, and actinic keratosis.
CO₂ Laser Peel: This non-surgical cosmetic treatment refinishes damaged skin by removing layers of the epidermis and stimulating collagen growth. CO₂ laser treatments can target fine wrinkles, sun spots, blotches, and other signs of aging.
Non-Invasive Fat Removal
Patients who are in good health and are at or near their body weight can take advantage of the newest and most effective fat-reduction technology known as Liposonix®. Using high-intensity focused ultrasound energy, Liposonix® can permanently destroy fat cells. Within an hour, patients can target the abdomen, flanks, back, arms, and thighs. They can return to work following the procedure and go back to their usual routine.
If you are interested in one or more of our non-surgical treatments, contact Dr. Wilson today! He can evaluate your face or body to help you decide on the right procedure for you. Schedule your consultation by calling (256) 551-2002 or by filling out our online contact form.