Not Ready for Bikini Season? Liposuction Can Help!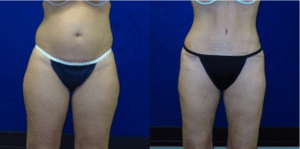 Did you start your year out right by dieting and exercising to achieve your body and health goals only to find that all your hard work did not pay off? Maybe just a few pounds or inches around the waist is all you need to achieve the results you desire. The good news is, liposuction can help!
Liposuction can help to target any area of the body with excess, stubborn fat. If you need a few pockets of fat removed from the stomach, thigh, or hip areas to squeeze into last year's bathing suit, you can undergo liposuction to smooth out your curves and look good on the beach all summer long.
Fat Removal and Body Sculpting With VASERlipo®
At Wilson Plastic Surgery, we offer VASERlipo® to help our patients achieve dramatic fat removal results using precision liposuction technology. We help you get rid of high concentrations of fat while sculpting the body contours to provide highly defined results. VASERlipo® can help you to highlight your natural physique, improving how your body fits into a bikini and some of your favorite summer fashions. 
VASERlipo® works by using advanced ultrasound technology to liquefy fat before it is vacuumed out using a small, thin tube (cannula). By being melted down, the fat removal is much easier while offering patients a safer liposuction method.
Treat Even the Most Stubborn Pockets of Fat With Liposuction!
Using VASERlipo®, Dr. Wilson can safely and efficiently remove deposits of fat that are unresponsive to diet and exercise. If you are in good health, do not smoke, and have realistic expectations of the procedure, liposuction may be the perfect fat removal method for you. You can remove inches of fat from your body while gaining a sculpted, better-defined body.
Liposuction is commonly performed on the:
Abdomen
Flanks
Arms
Neck
Thighs
You can be sure to feel confident and comfortable in your newly enhanced body when taking advantage of liposuction. Designed to eliminate fat and provide a leaner, more toned physique, liposuction provides results that can be enjoyed for many years to come when combined with a healthy lifestyle!
Do you want to achieve a bikini-ready body? Dr. Wilson is a liposuction specialist who can sculpt and shape your body contours. To schedule your consultation, you can contact us by calling (256) 551-2002 or by filling out our online contact form.