Your Ultimate Guide to Hi-Def Liposuction: What You Need to Know
5 Minute Read: 
These days it seems harder and harder to achieve the toned body we've been wanting. Between stressful lives, highly processed foods, and aging bodies (not to mention isolation and quarantine), reducing fat and highlighting our existing muscles has never been more complicated.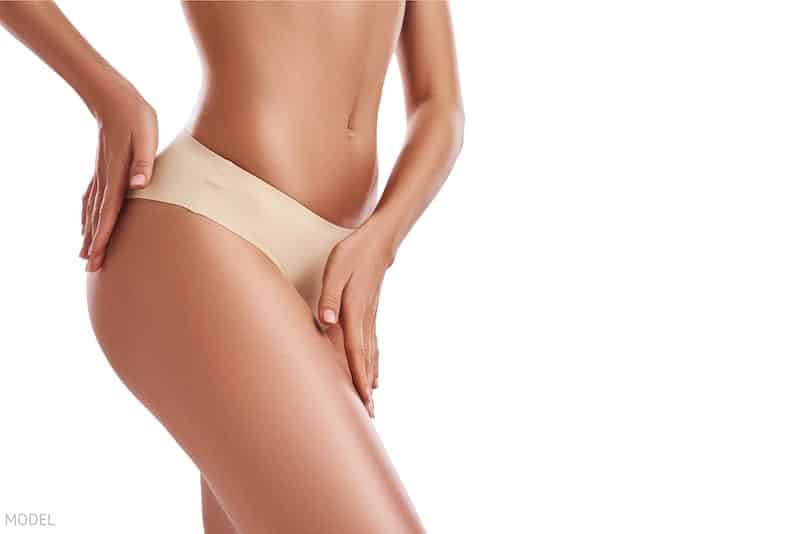 Fortunately, even though a lot of gyms are shut down, there are still ways to achieve the sculpted body definition you deserve. 
When most people think about liposuction, they look at it in its simplest form—as a method to remove fat cells. While this is true, liposuction technology has grown and improved more than many people know.
Dr. Wilson utilizes the VASERlipo® technique, which allows him to remove higher fat concentrations around the major muscle areas to provide beautifully defined results. 
How Does VASERlipo® Differ From Other Liposuction Techniques?
According to the American Society for Plastic Surgery statistics, more than 265,000 people underwent this procedure last year. It is an effective procedure for targeting stubborn fat that traditional weight-loss methods leave behind. 
Although there are various liposuction techniques, Dr. Wilson prefers VASERlipo®—or high definition liposuction. VASERlipo® uses ultrasound technology to liquefy and loosen the fat around the major muscle area. This gives off the appearance of chiseled, gym-worthy contours.
VASERlipo® is more than fat removal. It is anatomical body sculpting.
This process is safe and effective and allows for easier removal of the fat cells. The VASERlipo® technique offers more dramatic results in a less-invasive fashion.
Alternatively, traditional liposuction injects a saline fluid into the treatment area that causes the fat cells to swell. A small incision is then made, and a cannula (hollow tube) is inserted beneath the skin to loosen and suction away fat cells. 
Because fat cells are not emulsified prior to removal (as with hi-def liposuction), traditional liposuction is a more invasive treatment that requires a longer recovery period.
So, How Do the Results Differ?
Not only is VASERlipo® minimally invasive, but it can also create a much higher caliber of results. High definition liposuction allows for the most precise fat removal possible. This precision allows muscles and natural contours to be defined in a way that traditional techniques could not imagine.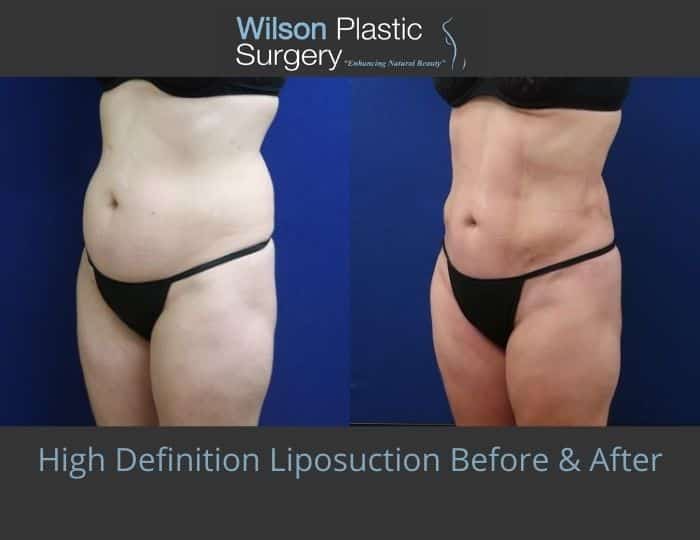 Is High Definition Liposuction Right For Me? 
High definition liposuction removes localized areas of fat from the abdomen, hips, thighs, back, buttocks, and arms while enhancing the appearance of your existing musculature. 
Liposuction candidates or near their ideal weight, do not smoke, and have realistic expectations of their results. 
Will High Definition Liposuction Help Me Lose Weight? 
One of the most common misconceptions about liposuction (both traditional and high definition) is that it provides significant weight loss and can be used as a substitute for a weight-loss program. This isn't true. 
Liposuction, even high definition, does not result in dramatic weight loss and will not cause a drastic reduction on the scale. However, it does give the appearance of weight loss because it tightens, slims, and firms your physique to provide you with more definition to your contours. 
This surgery works best for patients who have firm skin elasticity. If your skin lacks tone and cannot bounce back, your hi-def liposuction procedure may only highlight this loose skin and create unforeseen cosmetic issues. 
Will High Definition Liposuction Help Remove Excess Skin? 
Liposuction isn't ideal for you if your skin lacks elasticity. As liposuction doesn't shrink the skin, an additional procedure to address sagging skin may be necessary to reach optimal goals. Common procedures combined with liposuction are tummy tuck surgery, arm lift surgery, thigh lift surgery, and a lower body lift. 
How Long Is My High Definition Liposuction Recovery? 
High definition liposuction is minimally invasive, and the recovery time is minimal. Patients return to work within one week and resume all normal activities after four weeks. 
Your final results will become apparent after all of the swelling has subsided.
Will My High Definition Liposuction Results Be Permanent? 
Many people ask if high definition liposuction can provide them with permanent results. The answer is yes. It can permanently destroy the fat cells in the targeted area; however, this does not guarantee permanent weight loss for the patient. 
Patients should continue to follow a healthy lifestyle, which is crucial in maintaining results after liposuction. 
How Can I Maintain My High Definition Liposuction Results? 
The older we get, the harder it is to lose weight. You can retain your thinner, smoother figure by practicing healthy habits after your liposuction procedure. 
Here are some tips on how to maintain your high definition liposuction results:
Eat healthily: You should follow a diet that is high in healthy fats, fresh fruits and vegetables, whole grains, and lean proteins. Avoid consuming foods high in simple carbohydrates (pasta, bread, rice, etc.), sugars, and saturated fats. The key is not to eat less but to eat better!
Exercise regularly: After your liposuction surgery, it is critical that you avoid strenuous exercise until you are fully recovered. Your plastic surgeon will let you know when it is best to resume normal activities. Once fully healed, it is important that you adopt a regular exercise regimen that your doctor may recommend based on your new body.
Stay hydrated: You should drink plenty of water every day. It is recommended to consume at least eight glasses of water daily; however, this amount may vary depending on the person and their body type and medical history. Staying hydrated will help your metabolism, control hunger, and aid in digestion.
Don't skip meals: The start of your day is important. You should always begin with a nutritious breakfast, which will provide you with plenty of energy to get through the day and prevent you from overeating. It is also pivotal to eat several smaller meals throughout your day instead of eating three large meals.
Interested in Learning More?
If you are interested in high definition liposuction, Dr. Wilson can help you decide if it is the right procedure. Schedule your consultation today by calling (256) 551-2002 or filling out our online contact form.