Are You a Candidate for Body Contouring After Weight Loss?
Many men and women are eager to jump into body contouring procedures after significant weight loss. And why not? Cosmetic body contouring is the final step in the weight loss journey for many individuals, and without it many men and women consider their transformation to be incomplete. But before you rush into any surgical procedure, there are some considerations to be made.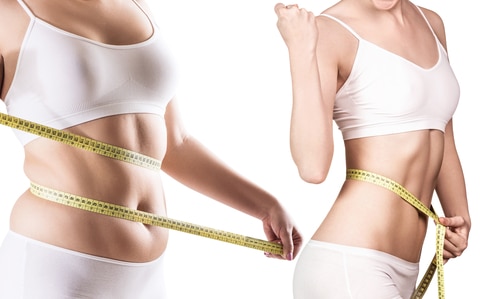 Why Body Contouring After Weight Loss?
Many people embark on weight loss journeys to better their health and personal feelings about their physical appearances. Unfortunately, even with all of the positive aspects of weight loss, there exists one negative: the presence of excess skin. Severe skin laxity is a result of significant weight loss. Your skin stretches as you gain weight to accommodate your growing size. However, instead of shrinking along with your fat cells once you lose the weight, your skin stays the way it was. The loss of collagen and elastin makes it very difficult for the skin to return to normal, and so instead of a fitter form you are left with excess skin that is both aesthetically undesirable and uncomfortable.
What Can Be Improved?
Excess skin can develop anywhere on your body, but it is most often seen on the abdomen, lower body, arms, and breasts. Liposuction can be combined with skin excision procedures like a tummy tuck, lower body lift, arm lift, thigh lift or breast lift to not only remove unwanted skin but also to remove stubborn pockets of fat that remain even after the weight is lost. Together, these procedures allow patients to achieve the contours they desire.
Are You A Candidate?
Are You at Your Goal Weight?
Before you consider any body contouring procedures, your weight loss should be complete or almost complete. Remember that excess skin weighs a great deal, so the number on the scale may not be exactly where you want it. It is essential, however, to wait for these procedures until after you have reached your goal weight. Body contouring procedures will address your current skin laxity, but if you are planning on losing more weight you may have to deal with additional loose skin. Instead of undergoing multiple procedures, which can be expensive, it is better to wait until you are totally ready.
Have You Maintained Your Weight?
Your weight loss, whether it was aided by bariatric surgery or done the old-fashioned way, included a heightened level of activity. Even if you did not go to the gym every day, it is very likely that you increased your movement in some way. Unfortunately, everybody contouring procedure requires downtime, which will prevent you from being able to exercise. If you are able to maintain your weight loss before your procedures, it is more likely that you will continue to maintain your results afterward.
Body contouring after weight loss will finally allow your transformation to be realized and significantly impact your quality of life. If you are interested in learning more, contact Dr. Wilson by calling (256) 551-2002 or by filling out our online contact form.