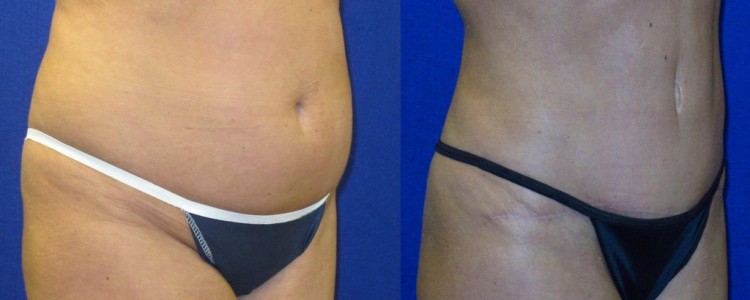 New and Improved Tummy Tucks
The first tummy tuck was described in 1957 by Dr Vernon.  We have come a long way in both minimizing the pain associated with recovering from a tummy tuck and results that we achieve with a tummy tuck.  A new drug called "Exparel" has drastically improved the recovery from a tummy tuck.  Exparel is a numbing drug, like Novocaine, that I inject in the operating room during a tummy tuck that will numb the tummy for 3-4 days following the surgery.  The first 4 days after the surgery are the worst, so by numbing the area, we are able to minimize discomfort, minimize narcotics needed, and shorten overall recovery.  This has been a huge advancement in tummy tuck surgeries.
The tummy tuck of the past limited liposuction to the flanks and back and avoided liposuction to the abdomen.  Now we know that liposuction of the abdomen can be done simultaneously with a tummy tuck by following some rules.  When I do a tummy tuck, I not only debulk the tummy with liposuction, but I also do a technique known as high definition liposuction or 3D liposuction to highlight areas of the abdomen to create an athletic abdomen.  This technique uses VASER ultrasound liposuction to perform both deep and superficial liposuction to highlight the six-pack muscles.  This has drastically improved the results patients can achieve after a tummy tuck.
The final change that has occurred with tummy tucks are the scar locations.  In the past, women wore bikinis that were higher cut and the tummy tuck incisions were designed to place the scars to be concealed with the bikini style of the day.  The current bikini trend is low cut bottoms.  We have had to evolve with the fashion trends and currently tummy tuck scars are typically much lower than they were in the past.
If you would like to learn more about how these tummy tuck advancements can transform your body, please call the office for a consultation.